REQUIREMENTS FOR TIME GATED ACTIVE NIGHT VISION IMAGING SYSTEMS
Please provide the following information to download the whitepaper.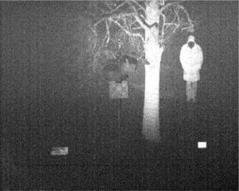 Download our Whitepaper, titled "Laser Requirements for Time Gated Active Night Vision Imaging Systems." In this paper, we review the fundamentals of modern night vision camera technology. We then go on to discuss the differences between active and passive imaging systems. Finally, we will explore the advantages and disadvantages of using laser-based, active imaging systems and give some insight as to why, in some instances, lasers are the preferred illumination source despite their inherent drawbacks.
After reading this white paper, you will come away with an in-depth understanding of both the history of night vision technology, as well as the current state of modern night vision imaging. This article will further go on to explain the important features and requirements that you need to be aware of when determining which laser source is best for your active imaging application. In this article, we illustrate the critical laser requirements through Optitask's series of q-switched Er:Glass lasers, which are ideally suited for active night vision imaging, due to both their ruggedized design and high pulse energy.